The ground station of the National Technical University HAM radio UT4UZB is equipped with:
Windows PC software-satellite Tracker Ham Radio Deluxe.
Transceiver ICOM IC-910H
SSB Electronics SP-7000 low noise amplifier
Antennas:

144 MHz, 2 x el 2MCP14 Cross Yagi, MSQUARE
430 MHz, M2436 CP30

Rotator AlfaSpid RAS AZ-EL,
Hardware and software architecture of the spacecraft PolyITAN -2 ground segment control.
The main elements of the ground segment architecture.
The equipment, materials, software, communications and tracking ground station, Mission control center (MCC).
The name of the

Type

Qty.

433 Mhz antenna

Wimo Helix 70-2

1 PCs.

145 Mhz antenna

M214CP

1 PCs.

Antenna 2.4 Ghz

Dish antenna

1 PCs.

Antenna Rotator

AlfaSpid AZ/EL Rotator

1 PCs.

Reducing cable coaxial

Belden RG-8, 10AWG, 50 Ohm

3*30 m.

Signal control cable

low-power-4 x core

30 m.

Ham radio transceiver

ICOM-910H

1 PCs.

Antenna positioner controller

AlfaSpid AZ/EL Rotator controller

1 PCs.

Control, communications and tracking ground station software

Ham Radio Deluxe Release 5.24.0.38

1 PCs.

Transceiver control controller (PC-ICOM)

RigExpert Standard

1 PCs

Cable RigExpert-ICOM

RigExpert-ICOM910

1 PCs.

Software- TNC controller emulation (AX. 25)

Mixw 3.1.1

1 PCs.

Communications and tracking ground station (MCC) computer

Windows,

Ethernet 100 Mb/s,

1 PCs.
External equipment ground station:
antennas
transferring 145 MHz-M2 2MCP14
waiting room 435 MHz WiMo Helix70-2
Low noise antenna preamplifier 435 MhzSSB SP-7000
Azimuth Rotator
Reducing cable Belden Coax cable
Mission control center (MCC):
Rotator controller AlphaSpid Az-EI
Radioamateur TRX transceiver ICOM IC-910H
Transceiver controller RIG RIGExpert interface
AX25modem
type-Kantronix
On-MixW
PC
Ham Radio Deluxe
On management of Rotator
AX. 25-MCC Gateway
Uninterrupted power supply
TCP\JP, Internet access
Interaction of monitoring and communication station with MCC
The position of the spacecraft (SC) is calculated in Ham Radio Deluxe program 5.4 (HRD).
Calculation performed previously by using Ham Radio Deluxe program Satellite tracking (HRD-ST) which is included in the delivery Kit software HRD. It is possible to pass parameters to the nearest network connection via DDE external programs. (Name of SC, azimuth, elevation, visibility, time to the beginning of the session)
Command- Executive software (CE) takes command, writes to the database session with the relevant status- a new session number XXXXXX
Session Scripts:

The SPACECRAFT is healthy (according to information of the last session and/or operator at the beginning of the session hears CW beacon)

Passing a query command readiness SC, setting the status «request» readiness for MCC
Receiving confirmation from SC, record the received information in DB session, setting the status «SC Ready"for MCC

KA partially functional or his status not known

Previously recorded commands in DB on CE.
Control CW signal.
Repeat from step i in the loop to end of session appearances.

Forced off the transmitter SC (on demand)

Shutdown commands recorded earlier in DB for CE
Lack of Control CW signal
MCC software conducts regular polling CE for reading statuses on CE and accordingly SC, saves these data in its DB and displays on the screen of the operator.
The control center - UT4UZB is at Heat power faculty in the case №5 of KPI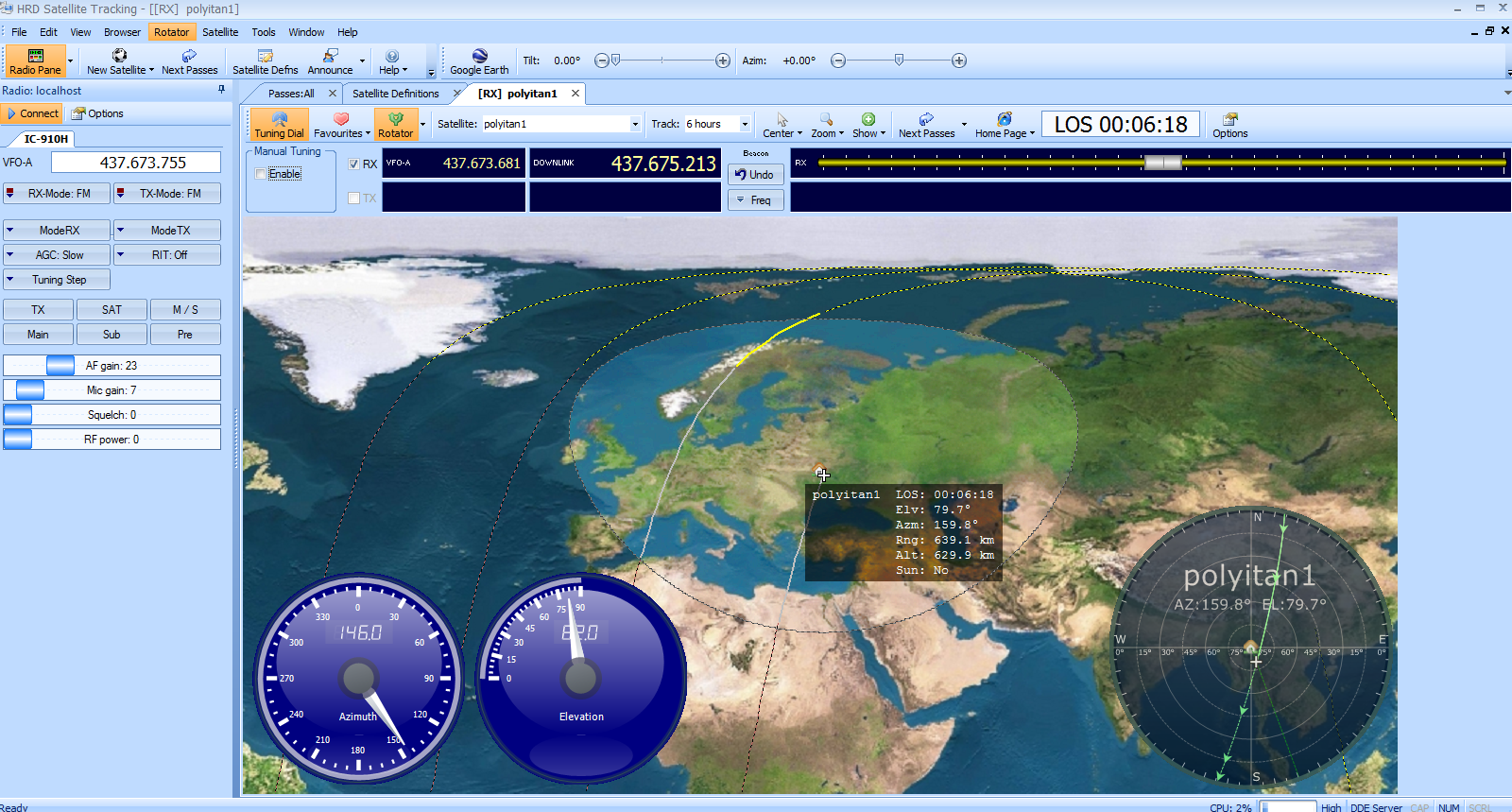 Контроль полёта спутника с помощью программы HRD Satellite tracking (Ham Radio Deluxe)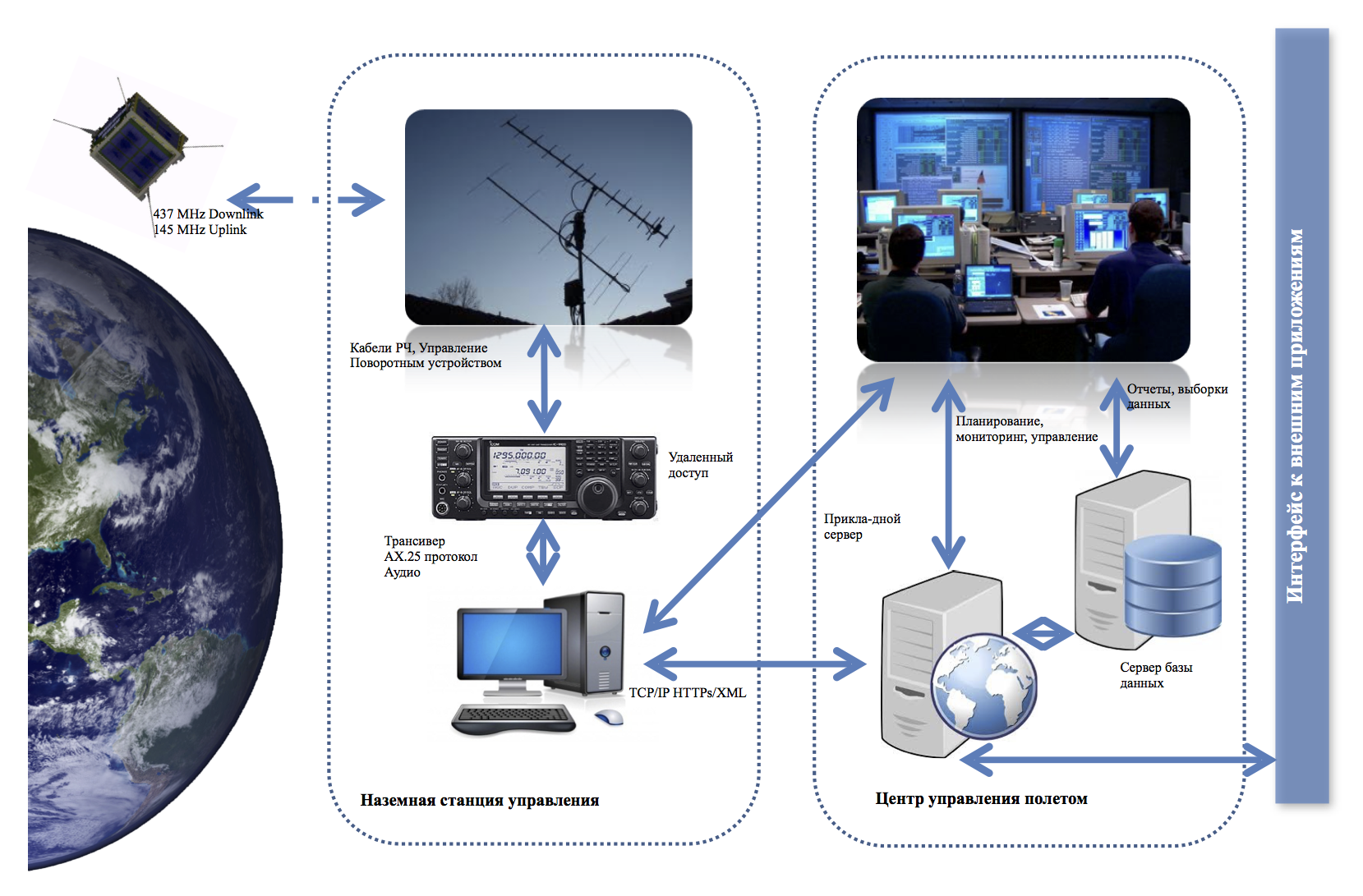 Ground station and control center Mission of nanosatellites of KPI